25 juillet 2008
OK, so I know Maxime's head is cut off in this photo but I still like it.
It also goes to show that he really likes looking at the camera
because I wasn't even behind or near it when I took the photo ...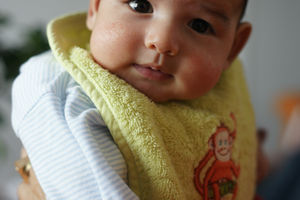 Looking very french in the next photo I think!
Who's smile do you like more, Max's or the monkey's ?




We went to visit our friends Gabriel and Fumika who have a new set of twin
daughters the same age as Maxime. They also have a son called Kenta who
is just starting to learn the violin...
Aimi, Kenta and Yumi, very cute all three!
Commentaires sur Visiting some friends...