11 juillet 2008
The other day our friend Florence came over and Maxime tired himself
by smiling and breathing the fresh air up at the lighthouse...
By evening he was completely worn out...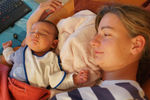 Today Claire, Chistophe and Christiane arrived. Christiane took
photos from the plane up untill the very last moment! Here is the
view of out home in mera from the sky...
Maxime smiled for everyone on call!!
Totof gets acquainted with Max...
Here they all are! The Bournaud's and Salinas'
... and no-one is blinking!
;)
Commentaires sur The Arrival of Salinas/Bournaud families (..well some)