28 juin 2008
Yesterday we all went to Dorothea Fernando and Sabela's place
Fernando made an authentic valencian Paella (which is the man's
job to cook, Pa (or para, for) ella (her)).
Maxime as usual at BBQ's slept for most of the time!


Here is Fernando's Paella, Dorothea feeding Sabela
and Sabela herself...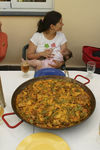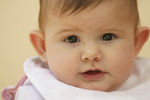 This morning Maxime on the orange couch...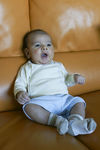 We gave Max his first bottle feed this afternoon, he had no trouble
with Caroline's milk, drinking up gleefully and with no complaints :)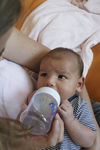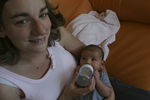 On the terrace this afternoon, it was hot but we relived our wedding
day party by mounting the marquis and it cooled the three of us down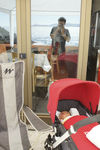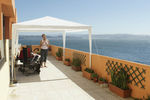 Maxime awakens from his afternoon nap...
Commentaires sur Paella, friends and terrace...