20 juin 2008
Another warm day, Maxime had a nice warm bath while half asleep
from eating.
Today we went to the pediatrician, Max is now 4.5 kg, 56.5 cm long
and his head is 37.5cm in diameter (for those keen to know details)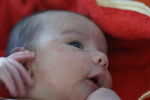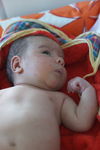 We had a BBQ today and Max slept the whole while Amazing!
Here he is again in his comfy petit bateau outfit...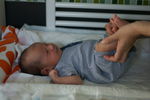 There are no pictures of the BBQ but we had a visitor afterwards
keen for some left overs, or perhaps Max attracts birds, pun intended! :)
Commentaires sur Sunny Barbeque day...