27 mai 2008
Time for a recap. These are Caroline's last photos while pregnant with Maxime
At Bastiagueiro Beach, pointing towards home...
And Lina our Matrona from Perillo, a wonderful and reasuring person throughout.


Eating and sleeping at home, mummy is tired, so is Max...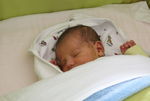 Flowers, some from Marisa and Dioni, Maxime's Grandmother
and Grandfather in Australia.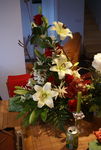 Today Maxime's paper work is almost all done, Registro Civil in Oleiros now
know who he is. So does the Seguridad Social, so he's an official dude now!
Thats all for now... More Maxime News later ....
Commentaires sur Re-cap.