16 février 2009
Well, with the Sun well and truely out we all decided to get
as much of it as we could! So here we have Maxime with
many firsts: On the Terrace,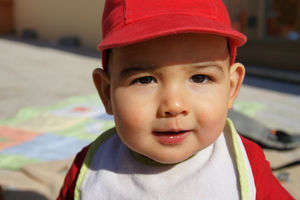 At the Beach, whats this strange crumbly stuff, mmmmm?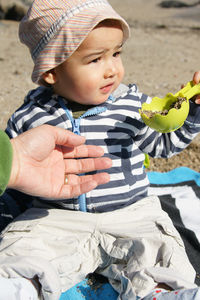 Slip Slop Slap! Whats that all you non-aussies ask?
Slip on a t-shirt, Slop on some sun screen, Slap on a hat!!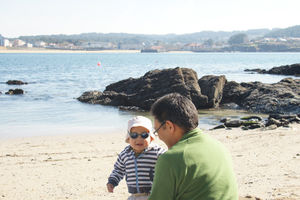 And third, On the Grass... also strangely long and soft and green, hmm.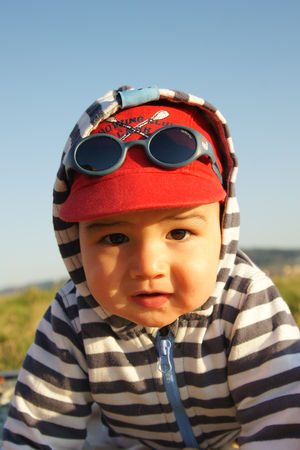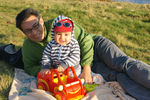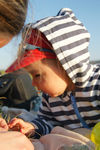 And of course I want to be the next Brian Lara...
08 février 2009
More of Max's Collage...
Of course the BIG news is that Max still doesn't have any teeth, hmpf
but we imagine that they will arrive sooner or later...?!@ Our
pediatrician told us he would have a tooth "in the next few days"
... that was over a month ago, we do still eagerly check every
morning ... "does he have a tooth? does he? ... er nope..."
If you want to know which photos are newer/older then here's a
hint: check the hair!
Some of you may know that we had a cyclone here a few weeks ago
which was a little scary and tomorrow is announced to be strong winds
upto 140km per hour, however winguru.com is not predicting anything
close to the other time so we shall see...
Just a quick point of condolence for all the australians without loved
ones, homes etc due to the horrific fires, really shocking.
Hi everyone .... finally! Sorry for the long absence, here we have a Maxime
Catch-up Collage from the last few months. Max is so keen to walk that he
spends most of his time working just on that, no time for ga-ga or making
noises (except for a cat sound that he copies if he hears one...)